Convenient Treatment on Your Schedule with Take-home Teeth Whitening Kits
Professional teeth whitening is more effective than over-the-counter products, and is one of the simplest, most cost-effective ways to achieve a brighter smile. During a consultation with Dr. Brian Hirschfield, you can learn more about teeth whitening at our Lakeville, NY, practice. And if you are new to our practice, we will provide an Opalescence® take-home teeth whitening kit as a free gift for choosing our office.
Candidates for Teeth Whitening
Teeth whitening can reduce or completely eliminate stains. The process involves applying a peroxide-based product to the teeth, which breaks the chemical bonds between stains.
Teeth whitening is a low-risk procedure, so most people are candidates. It is not recommended for certain patients including those:
With restorations in the front of the mouth, as they will not lighten
Who are pregnant
Who have extremely sensitive teeth or worn enamel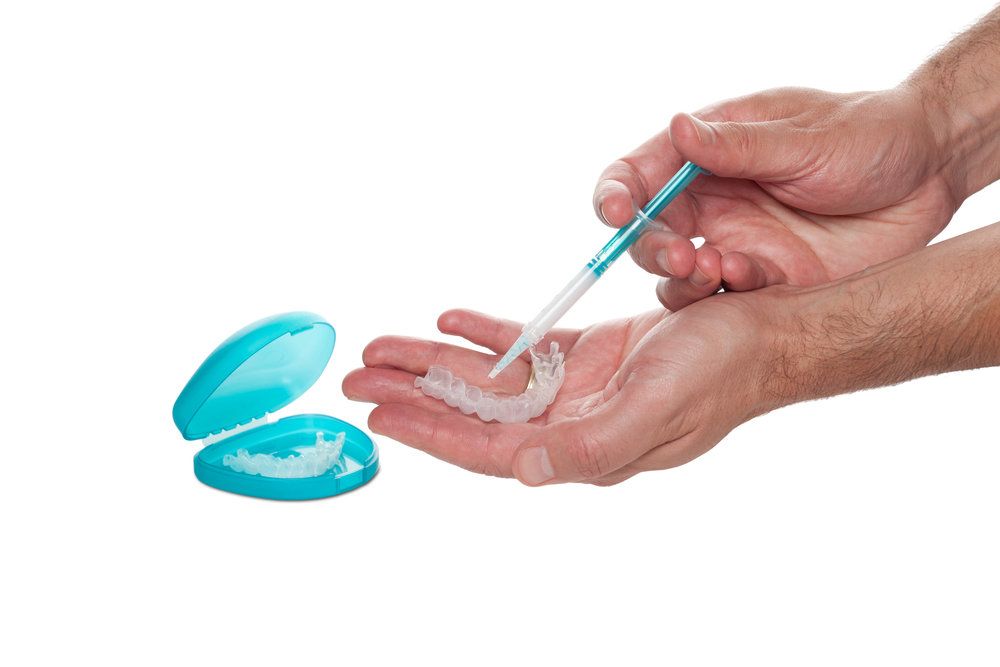 The Teeth Whitening Process
If you are interested in brightening your smile, we can provide you with a convenient Opalescence® take-home whitening kit. In order to fabricate your take-home kit, Dr. Hirschfield will make impressions of your teeth, which will be sent to a trusted dental laboratory. The laboratory technicians will make customized whitening trays, which will securely fit over your teeth. Well-fitting trays will maximize contact between the whitening gel and your teeth, as well as minimize contact between the gel and your gums, as the gel can irritate delicate soft tissue.
If you are new to our practice, we will provide an Opalescence® take-home teeth whitening kit as a free gift for choosing our office.
Once your custom trays are returned from the lab, you will be provided with whitening gel to complete your take-home kit. To lighten your teeth at home, you will simply apply the gel to the trays and place the trays in your mouth. You will wear the trays for about 30 minutes every day for the time period that Dr. Hirschfield prescribes. Upon the advice of your doctor, you can repeat this process at a later date in order to maintain your results.
Take-home Whitening Benefits
Some patients might be interested in trying one of the various over-the-counter teeth whitening products. While some of these systems work better than others, Drs. Hirschfield recommend that their patients choose dentist-supervised whitening for several reasons. For instance, before recommending a take-home kit, your doctor will complete an oral exam and go over your medical history to determine how your teeth became discolored and whether you are a good candidate for teeth whitening. Staining cause by certain medications, for example, will not respond to whitening.
During your at-home whitening process, your doctor may ask you to come to the office to ensure that your customized trays fit properly, that your gums are not irritated, and that you are following the instructions properly. If you use over-the-counter whitening methods, you cannot benefit from this personalized attention.
The teeth whitening procedure is a safe and non-invasive way to improve your smile, especially when compared to procedures such as porcelain veneers and dental bonding.
Contact Our Practice Today
Improving the look of your smile can dramatically boost your self-confidence. If you are interested in learning more about how you can whiten your teeth at home, contact our office today to schedule an appointment with Dr. Hirschfield.